Wait, I said pause damn it. 
ΣLL∀MƐNTAL ∀ΦΨΠ SLANG EDITORIELLZ
 presents to you a lyrical genius. No Sun not Wu-tang Clan's GZA. 
Shabaam Sahdeeq A.K.A. S DUB, A.K.A. DOUBLE S, A.K.A. FREAKY FLOW, A.K.A. FLIP BARS FOR FUN!
 While others are debating between real Hip Hop and Rap Shabaam personifies it with integrity. Shabaam will decapitate your style and educate you on the philosophy of being an 
EMCEE
 as that to a father disciplining his child with harshness and love to assure you a proper innerstanding on what 
Hip Hop lyricism
 is!  If you think, I am lying well 
Sway
 & 
David Chappelle
 feels the same way that I do! Get the facts Jack
. S.M.I.L.E. Some Make it look Easy!
 For all your 
Shabaam Sahdeeq
 information visit: 
http://www.shabaam-sahdeeq.com/
WHERE ARE YOU FROM?
I was born in Brooklyn NY. I was raised between Brooklyn & New jersey. I lived all over the Tristate area, mainly Flatbush BKNY, Bedford Stuyvesant BKNY, Jersey City NJ, Teaneck Nj, and Parts of the Bronx. I live in East New York now.
WHAT DO YOU LIKE MOST ABOUT YOUR PROFESSION? 
Freedom of expression. I say that because everything I do revolves around art. I'm a barber by trade, a Emcee/Writer a Graffiti artist/ Painter. In each profession  I get to express my self to the fullest with design. words,colors, shapes etc…
HOW LONG HAVE YOU BEEN DOING THIS?
I have been a emcee since the age of 15. The first record I appeared on professionally I  was 17 years old.
WHAT ROLE DOES THE ARTIST HAVE IN SOCIETY? 
To Me Artist should Capture the times in Rhyme, Music, painting & individual style. They should inspire people. They should express their feelings thoughts and views to the world. Musical taste is based on opinion, so everybody will not like what you have to say, but you should keep it true to your self.
ARE YOU HAPPY NOW?
I'm very happy. I love what I do. I travel the world, I take care of my children, I'm free and alive.
IF YOU COULD GO BACK IN TIME, WHAT WOULD YOU DO DIFFERENTLY?
I would have went to college after high school. Stayed away from the streets and prison. I would have paid attention to the business aspect of the music industry with those big label deals in the 90's
WHO DO YOU HAVE NO RESPECT? I
have no respect for rapist, child abusers, racist, crooked police, user leaches, people who hate for no reason, this list can go on forever…lol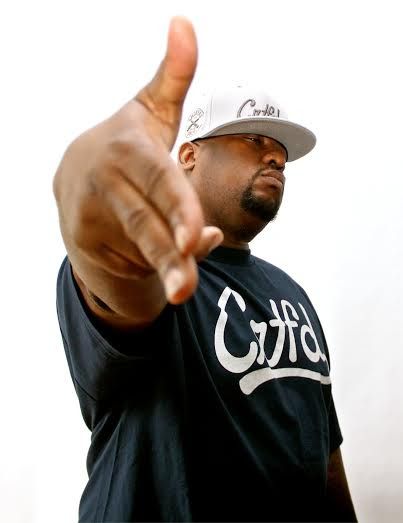 WHAT'S THE BEST PIECE OF ADVICE YOU'VE BEEN GIVEN? 
to stay true to myself, stand by what i believe in and work smart.
WHAT DO YOU DO IN YOUR SPARE TIME?
I paint, cut hair, and I do events all over the country called "ITS ALIVE"
DO YOU DO ANY VOLUNTEER WORK?
I don't really have much time, but I would like to. I have 5 kids. between that and the other things I'm busy with time is limited.
ARE YOU MORE OF A HUNTER OR A GATHERER ? 
im a bit of both.
HOW HAVE YOU CHANGED?
I have changed a lot. I was a wild boy when I was young. I was a misguided young man at some points of my adult life and I have learned from my mistakes.
WHAT'S THE SIDE OF YOU THAT THE PUBLIC NEVER SEES?
I put mostly everything in my music and art…what u see is what u get.
HOW HARD DO YOU PUSH YOURSELF?
 I push my self very hard, but I have times when I get frustrated and depressed.  I always snap out of it by working smarter and harder.
WHEN ARE YOU COMPLETELY SATISFIED WITH YOUR WORK? 
When I fully went over it and I am completely happy and excited about it.
WHAT'S YOUR STRONGEST MEMORY OF YOUR CHILDHOOD?
Playing in the court yard of Vanderveer houses in Brooklyn and hearing hip hop for the first time out of a boom box, and seeing live graffiti on New York trains in full bright colors.
WHAT ABOUT THE INDUSTRY YOU DO NOT LIKE?
 Leaches who ride your wave when you are hot and jump off when you're not.  Industry heads who look down at artist on the come up. Those who complain about mainstream hip hop but don't support and purchase the artist music that they do like. People who don't know you but want you to do something for free without them returning any favors. People who talk as if they are perfect and speak as if they have no flaws. Artist who thinks only their music is superior.  Companies who want to pimp artist and not pay them. etc…… I can go on forever….lol
WHAT IS THE FUNNIEST THING THAT HAS HAPPENED TO YOU RECENTLY?
Nothing funny really.
DO YOU CONSIDER YOURSELF A TEACHER OR PHILOSOPHER OR BOTH? Both HOW IMPORTANT IS MARKETING AND PROMOTIONS?
Marketing and promo is very important, cause you could have the best project on the planet but nobody will hear or see you if the marketing and promo isn't done right.
DO YOU THINKING WRITE UPS, BLOGS, MAGAZINES ETC ARE IMPORTANT?
Very important every interview brings you closer to the people.
WHAT PUTS A S.M.I.L.E. ON YOUR FACE?
MY family, Hip Hop & Art.
What Happens When Nick Wiz & Shabaam Sahdeeq Get In the Same Room? Friday Fire Cyphers!
 Shabaam Sahdeeq – Tranquilo – Produced By Harry Fraud – W/ Dave Chappelle Intro